This October, I got to go on my first business trip. Hooray! Finally #adulting. A huge group of us from my company Capterra, attended the DreamForce conference in San Francisco which boasts over 170,000 attendees. It was an overwhelming 4 days of selling, schmoozing, and hoofing it from meeting to meeting to talk  with clients. 
Silicon Valley is a living, breathing earthquake of new ideas and the center of ingenuity in the world of technology. Sleeping in your office and never ending work weeks are the norm here and there are new startups popping up every single day backed by venture capital firms that are all vying to become the next SalesForce acquisition. If you stay at one company for more than a year, you're in the minority. In San Francisco, you never stay in one position for too long and while I enjoy my life in DC with my position at my company, there was something inspiring about the energy that disrupts and propels the culture here. As you peruse the bustling streets near Union Square as the cute little yellow trolleys zoom by, you can certainly sense the fast paced, vibrant soul of this city.
My visit here gave me two views of a fascinating metropolis: the bustling and invigorating world of technology and the Northern California city from a tourist's eyes. My coworker, Sara and I were lucky enough to see the Ferry Building and Pier 39 mid-week, as well as a morning brunch, a quick look at the Golden Gate Bridge and the Palace of Fine Arts. I have listed my recommendations for what was a perfect Morning and Evening agenda away from the wildly busy conference below. Enjoy!
Evening
An appetizer and glass of wine at

Hog Island Oyster Company

. Seriously – the best oysters I've ever had and the Rose didn't hurt either!    
A stroll through the

Ferry Building

. I recently got to see the new Ponce City Market in Atlanta and I can't help but think their inspiration came from the Ferry Building. Tons of cute shops with spices, soaps, chocolate, and so on. I could have spent hours here!
A viewing of the Pier 39 Sea Lions. This might be a tourist trap, but who I am kidding? These guys are cute!
Keep walking past Pier 39 and you'll eventually reach Ghirardelli Square. This was my favorite spot in the city with a lovely view of the Bay and a faint glimpse of the Golden Gate through the mist. Not to mention, the original Ghirardelli chocolate shop.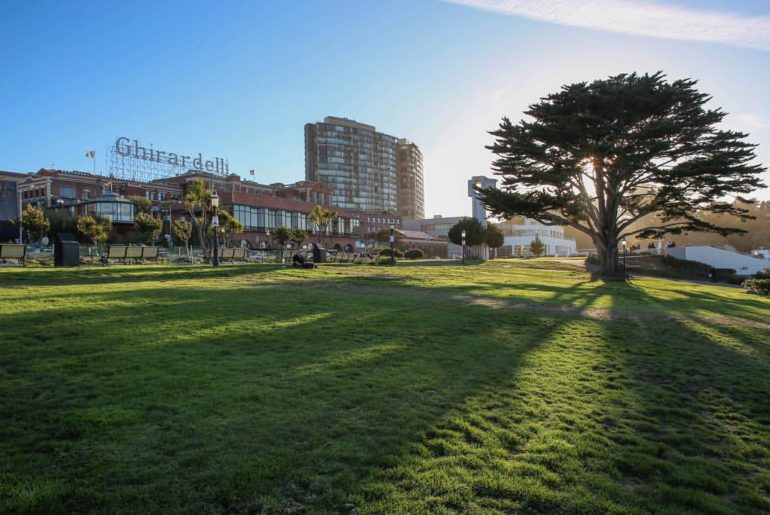 Morning
A quick and wonderful breakfast at

Home Plate

. They make the most wonderful hot scones to go with your breakfast and the diner has the cutest Baseball themed, small town atmosphere despite it's central location just a ten minute walk to Crissy Field Beach.
A walk through the

Marina District

. Wonderful squares of restaurants and trendy shops give way to Crissy Field Beach and some of the most beautiful and expensive homes in the world. I think my mouth literally fell open at a some of the homes here. The beautiful California flowers and breeze only made me more jealous of it's residents.
A quick gander at the Golden Gate bridge. It really is all it's cracked up to be! Especially when it's back drop is a piercing blue sky. This hue makes the orange color really pop.
Just to the right of Crissy Field beach is the Palace of Fine Arts. This wonderful oasis was erected in 1915 to show the world that their beautiful city can and will survive the devastating earthquake and fire of 1906.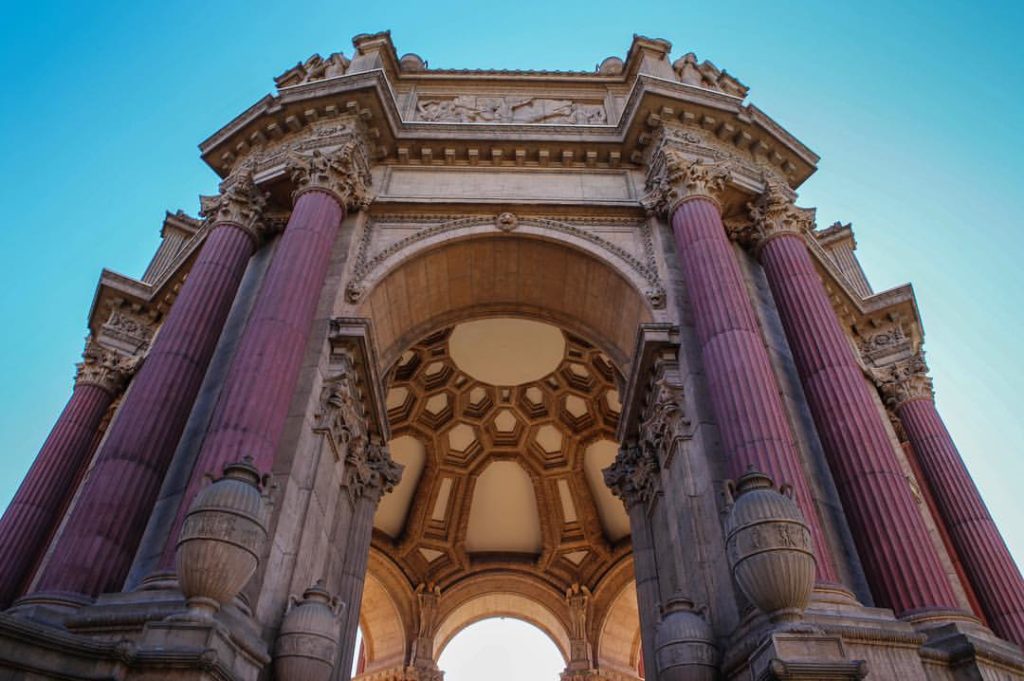 Business trips are time consuming, stressful and yet invigorating at the same time.  I was grateful to not only get a backstage view of the booming tech world , but also a few hours to myself to do some exploring. I hope you'll find these recommendations helpful on your next San Francisco jaunt!
XOXO