The moment I stepped out of our hotel room in Paris and heard the momentarily still and peaceful sounds of the side streets of Rue Roquépine, I knew this was a well overdue jaunt into the unknown. My husband and I made our way down the crowded, noisy main roads to the Seine and ordered two glasses of Rose on a rickety, yet effortlessly charming Riverboat/cafe. Jet-lag plagued my mind and it all felt like a clouded, foggy dream of Art Nouveau Architecture, intoxicating beauty, and delicious romance language.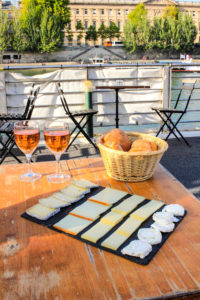 We meandered our way back up the Seine through the courtyards of the Louvre and then to the Tuileries. There we ran up on an outdoor folk concert complete with an accordion in the middle a towering grove of trees bursting with early evening sunlight. This is what I love about being in a foreign country – I was only one hour into my European vacation and still there was absolute serendipity around every corner. It's terrifying and beautiful all at the same time. I don't speak French (well or really at all) and I have no idea how to interact with the locals without looking like a clueless American tourist, but in the end you simply have to roll with punches and get lost in it all – even the jet lag! It pushes you outside of your comfort zone at every stop along the way and forces you to be 100% in the moment. This, in my mind, is the ultimate gift of travel.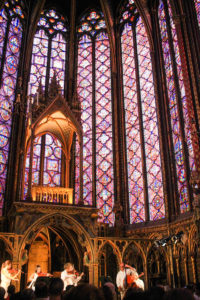 Perusing Musee D'Orsay's dreamy impressionists Monet and Renoir sharply juxtaposed against terrifying pieces like William Bouguereau's Dante and Virgil in Hell leaves you longing to continue your education in art history regardless of your previous interest (or lack thereof). Then, there's a Vivaldi concert inside of St. Chapelle on the  Ils de la cite: this is one of the most beautiful experiences anyone can partake in. The small, stone chapel is entirely consumed by breathtaking stained-glassed windows which disperse a red-hued ambiance throughout the high-vaulted and buttressed ceiling.  You feel as if you've stumbled back in time and ultimately you have no choice but to surrender to the magic of that moment. There's no checklist or clock punching to be fulfilled, just a horizon of endless opportunity awaiting you.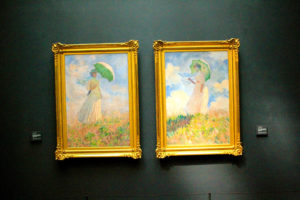 Paris leaves you wanting nothing more let go of your previous anxiety about whatever is going on your life and wander the streets admiring the beauty of the blue sky, the wonderful architecture, and watching its inhabitants lead an existence free of expectations and full of simple pleasure. It's all-consuming, this atmosphere of ultimate and effortless class and beauty. And if you just let it, it will renew your spirit and faith in this magical world.
XOXO