Most well traveled road warriors have their own packing trade secrets, and usually some strong opinions on the fold vs. roll technique. I'll admit, I take on packing like a new 1000 piece puzzle challenge to be masterfully put together. I'm always strategizing on how I can fit clothes and gear into the least amount of space possible, utilizing every square inch. I thought I was a world class packer… until one day I learned something that changed my life! Yes, that's a little dramatic but also definitely true in the world of packing. This gem of information was gleaned from a packing class at Global Luggage and Gifts and I am sharing this revolutionary knowledge with all of you. Be excited!
How to Pack your Clothes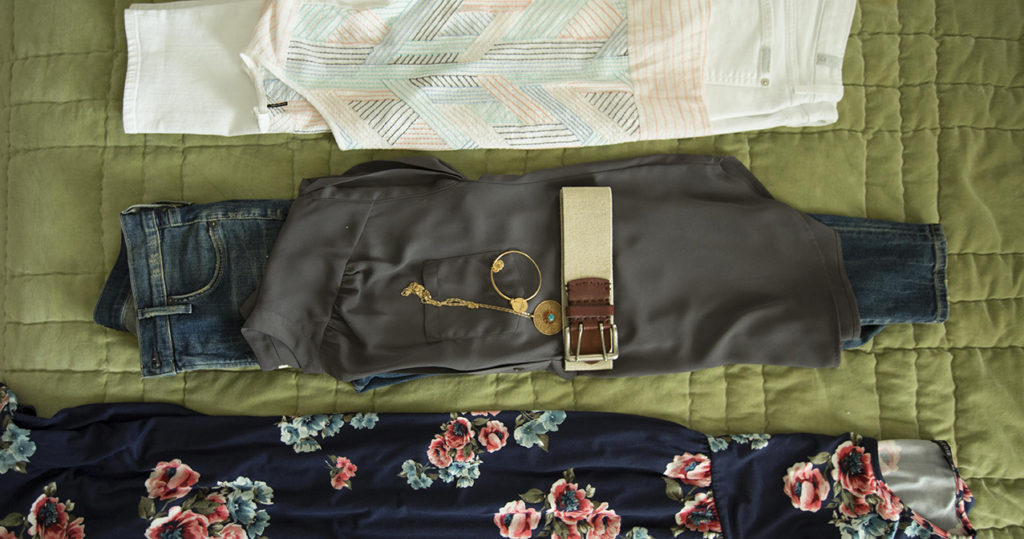 I call it the three folds of awesomeness technique. First layout your clothes length ways in complete outfits (including underwear, socks and accessories). Second, fold one end to the middle followed by the opposite end to the middle. Finally, fold a third time at the middle crease. It becomes like a little outfit packet. Folding your clothes like this also prevents them from wrinkling. Sounds crazy, but it's true.
Place the outfit packet standing up NOT flat, sandwiched by all your other outfit packets. When looking at you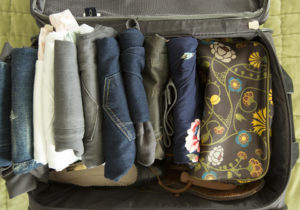 r suitcase open you will be able to see all of your clothes. You can then chose one outfit packet from the bunch, wear it, and return it folded to the suitcase. Let's not mess up the genuineness please! Extra room beside your clothes packets can be used for shoes and toiletries. Use clear organizational travel bags/cubes for any travel extras. Gone are the days of suit case explosions and packing/re-packing from hotel to hotel! YAY! You are welcome world!
Travel Pro Tip:  Shoes are the death of all good packing techniques. A pair of stilettos or tall boots can ruin any packing job. If you must take boots or high heels, keep it to one pair and make sure all outfits are compatible. Invest in a good pair of comfortable/stylish shoes for travel. In winter I wear Frye leather boots and in summer Sam Edelman flats or Toms.
How to pack your toiletries
This should go without saying, ALL TOILETRIES should be in travel sized containers. No one needs the bulk or the weight of a 32oz bottle of shampoo (unless you are going to an island where shampoo doesn't exist for three months). I always use twist top travel size containers and pack all toiletries in quart ziplock bags. I rarely have a leak, but when I do it's contained.
Happy Travels!